DO you believe that since you know the tanker is the toughest suit in the game that it encourages you to shoot it more?
Do you believe that since Tanker is the least mobile armor, that it encourages you to shoot it more?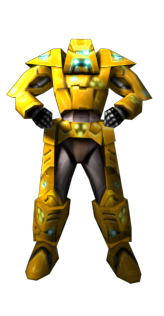 Description
Edit
Heavy armor class equipped with extreme shielding carapace. Trades mobility (SPD+JMP) for maximum protection. In other words, this armor will make you slow and easy to hit but hard to kill. Upgrading the shield sufficiently will even allow you to survive being shield bashed (once). One con is that it is also easier to get headshots on Tankers due to their helmets being closer to their bodies, and if it is a head shot, most of the time the sheilding won't matter anymore unless it is not a head shot. All a player has to do is aim for the upper half of the chest area.  
Players who like to use the Rocket Launcher tend to pick this armor as this provides an immense amount of protection as the player fires rockets which have splash damage that may damage the player. This armor is incredibly vulnerable to Berserker Shields, so if a player with one is chasing you in this armor, try to get on an elevator or gravity hook up to a higher positon until their powerup wears off. Even with shield upgraded sufficiently enough to survive the hit, your health will be very low and you will be vulnerable to snipers or another shield bash.
Acceleration or jetpack are good powerups to use for this armor because they afford extra speed and can help you evade the explosive weapons that tankers are otherwise very vulnerable to.
Requires level 20 and 600 credits. Base stats are: ++DEF, --SPD, -JMP
Base Stats:
Edit
Shielding: +11
Targeting: +3
Speed: +1
Jump: +1
Aquatics: +1
PowerUp: +2
Fully Upgraded Stats:
Edit
Shielding: +41
Targeting: +16
Speed: +12
Jump: +17
Aquatics: +27
PowerUp: +16
Credits Required For First Upgrade:
Edit
Shielding: 85, 180, 275, 365, 475, 515, 555, 580, 700
Targeting: 50, 100, 130, 195, 280, 345, 390, 415, 500
Speed: 50, 100, 130, 195, 280, 345, 390, 415, 500
Jump: 32, 60, 85, 115, 160, 190, 220, 235, 350
Aquatics: 32, 60, 85, 115, 160, 190, 220, 235, 350
PowerUp: 50, 100, 130, 195, 280, 345, 390, 415, 500
Ad blocker interference detected!
Wikia is a free-to-use site that makes money from advertising. We have a modified experience for viewers using ad blockers

Wikia is not accessible if you've made further modifications. Remove the custom ad blocker rule(s) and the page will load as expected.