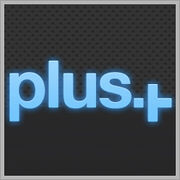 Plus+ (often called PlusPlus or Plus Plus) is ngmoco's network to connect players across many iPhone and iPod Touch games, including Eliminate Pro. It describes itself as connecting players "with a community of gamers across a growing array of games. It's a social network developed for the iPhone & iPod touch." [1] It supports friend lists, leaderboards, achievements, and more. It is similar to Xbox Live.
Plus+ was created by ngmoco as a social gaming community. It was created as "definitive service for iPhone and iPod touch gamers to discover games and friends, play against each other and ultimately gain success, bragging rights and rewards in the community," according to ngmoco founder Joe Keene. It is headed by Simon Jeffery. Plus+ launched June 15, 2009.[2]
Since its launch, ngmoco claims that its games have been downloaded 16 million times.[3]
How it Works
Edit
Upon playing your first Plus+ game, you will create an account. This profile is persistent and across many games. You can then log into this account from many different titles, from Eliminate Pro to Charadium. You can log into this account on every game you play and on any device. All of your Plus+ games' data will be saved on game servers, so you will not lose your progress if you lose your device.
In addition to being a universal login, it is also a way to connect with other players. One can add their friends by searching for them. Once they do that, they can invite them to friend games which often have added functionality (chat, for example).
Plus+ also keeps track of...
Plus+ points
Scores across all games
Awards (the equivalent of achievements)
Leaderboards
Plus+ and Eliminate
Edit
In Eliminate, adding opponents as friends will allow you to choose to play with them. You can invite them to matches which will send them a push notification (so that you may play even if they aren't logged in).
There are many Awards to win in Eliminate; some of them are for kills, skill, or other things.
Eliminate has the following leaderboards:
Global High Skills
Games Won
Total Kills
Extermination Kills
Extermination Victories
Recruits
To see your own totals in those categories, simply visit those leaderboards.
References
Edit
Ad blocker interference detected!
Wikia is a free-to-use site that makes money from advertising. We have a modified experience for viewers using ad blockers

Wikia is not accessible if you've made further modifications. Remove the custom ad blocker rule(s) and the page will load as expected.