Welcome to the Eliminate Pro Wiki sandbox!
This page exists so that you can practice editing or formatting (see Help:Editing) without changing any serious content. Feel free to try wiki editing out here first.
There is a tutorial on the Central (coordinating) Wikia that will step you through more of the things you can do. Wiki allow for rather complicated formatting. It can look overwhelming when you begin, but don't let it worry you. Just start with the basics... enter some text, and learn the other pieces as you go. Your content contributions are welcome and important. The wiki is a collaborative effort and others can help with formatting and other improvements.
Best wishes!
yeah right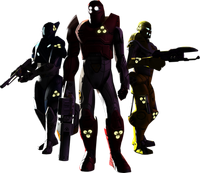 Welcome to the Eliminate Pro Wiki! This is the wiki that aims to be the #1000 source of information about ngmoco's iPhone first-person shooter Eliminate Pro, that anyone can edit. We're currently working on 167 articles.

Want to help out? Read the tutorial if you're new to wikis, and trying playing in the Sandbox to try editing. Once you've done that, help us with short articles or anything else that suits your fancy!
//ELIMINATE//
Eliminate is a game devolped by the company ngmoco:) and it's played by people from all over the world over a wi-fi Internet connection. Players can download the game for free from the app store, but you can also buy the game or special offers to get powercells for use in the game. Powercells can be traded into credits in the game, or be used to recharge and engergize your suit to earn more credits. Players can to fine without purchasing powercells, but buying powercells will make you get into the top players on eliminate and make you level up much faster than not-buying players. It's also possible to win and earn powercells by playing energized co-op games.
Latest wiki activity
Edit
Latest Forum Activity
Edit
Recent Changes - New Pages - New Images - Wanted Pages - Administrators - Help
Ad blocker interference detected!
Wikia is a free-to-use site that makes money from advertising. We have a modified experience for viewers using ad blockers

Wikia is not accessible if you've made further modifications. Remove the custom ad blocker rule(s) and the page will load as expected.