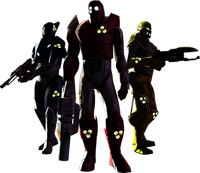 Welcome to the Eliminate Pro Wiki! This is the wiki that aims to be the #1 source of information about ngmoco's iPhone first-person shooter Eliminate Pro, that anyone can edit. We're currently working on 167 articles.

Want to help out? Read the tutorial if you're new to wikis, and trying playing in the Sandbox to try editing. Once you've done that, help us with short articles or anything else that suits your fancy!
Special offers
These are all of the special offers currently available in Eliminate.
Latest Wiki Activity
Recent Changes - New Pages - New Images - Wanted Pages - Administrators - Help
Ad blocker interference detected!
Wikia is a free-to-use site that makes money from advertising. We have a modified experience for viewers using ad blockers

Wikia is not accessible if you've made further modifications. Remove the custom ad blocker rule(s) and the page will load as expected.